Description
180 degrees protection
Anti-collasion, 180 degrees protection, when arm meets out-forces, it will reposition automatically, LED will flash and alarm noisy unitl out-forces disappeared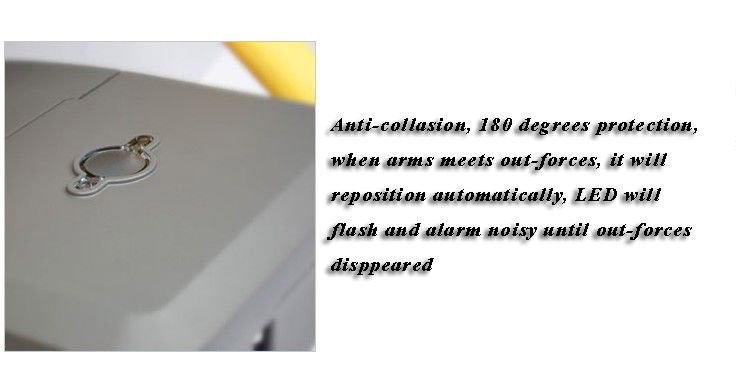 Anti-crush of 5 tons truck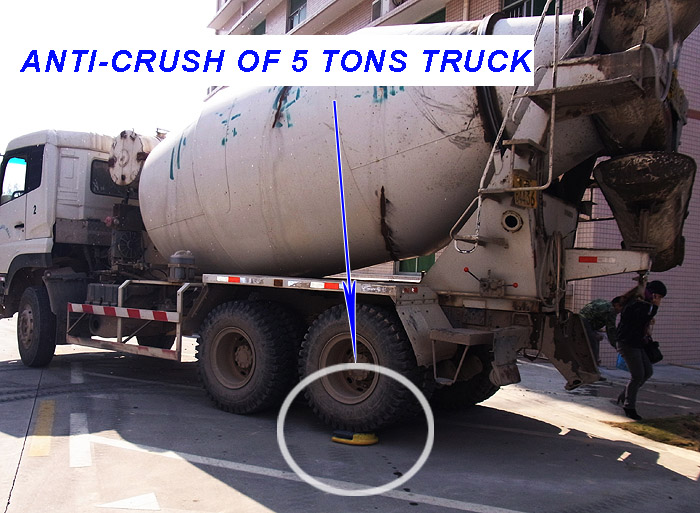 Fully Alluminum alloy die-casting housing(5mm thickness)

Special Material Made Arm
Special material made arm, anti-corrosion, strong, durable, impact resistance, abrasive resistance, springy, anti-deformation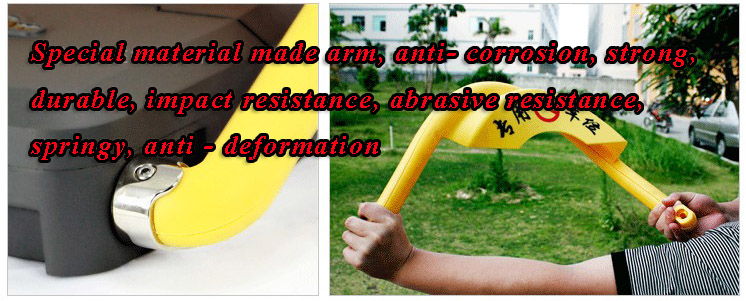 Anti-Crush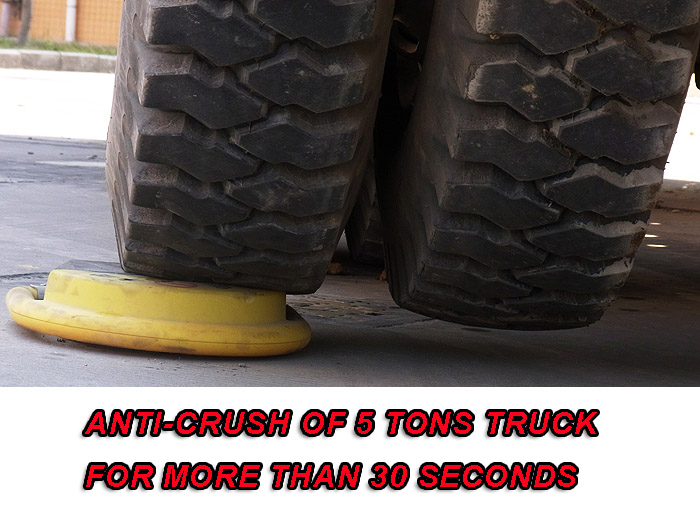 Anti-Theft Design, Long range remote control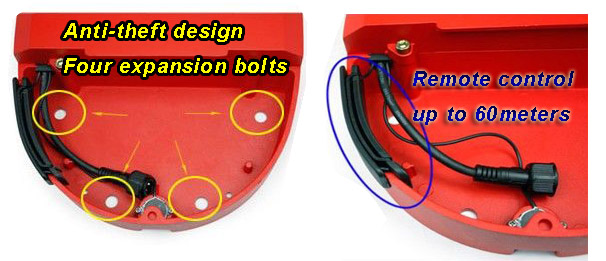 1. Functions & Features:
1. Energy-saving; the battery perform very good  and the power saved inside will last half a year.
2. Safe; the power connection is anti-disconnecting design in case that the user misplaces the battery causing short circuit; battery installation is easy.
3. Durable; the cabinet is made of die-casted Zinc alloy with high quality, and the maximum weight of load-bearing is 5 tons; the cabinet is coated with varnish, being water-proof and anti-rust in harsh weather. The sway arm is made of fiber-reinforced nylon, and it will not deform even after car crushing.
4. Hermetic; the cabinet is tightly closed, and Protection Grade is IP68. It is waterproof and dustproof. It can be used broadly.
5. Auto-repositioning; the external force could not change the sway arm position when it is vertical; when the sway arm is forced to a horizontal position, it will reposition vertically, unless the user uses remote control to put it horizontally.
6. Noise-free; bearing transmission design of the motor makes almost zero noise. It is beneficial for battery and motor longevity and lesser friction.
7. Burglarproof; the mounting bolts are placed inside of the cabinet. No one can open it without key.
8. Easy Installation: four prepared holes at the bottom of the cabinet makes it easy to install.
2.Specification
| | | | |
| --- | --- | --- | --- |
| Voltage | DC12V | Battery | DC12, 7Ah |
| Dimension | 357×370×82.5mm | Current | 0.4A |
| Running Time | 4~6s | Extended Height | 340mm |
| Remote Distance | >15M | Working Temperature | -35°C~+55°C |
| Weight Born | 5t | IP Class | IP68 |
Specificatation details
1. Dimension: 550*120*100mm    Thickness: 3.5mm
2. Aluminum die-casting alloy can resist heavy car pressure.
3. Colorfast and ultraviolet-proof high hardness electrostatic spraying process is not debonded.
4. 3M warning reflective film is colorfast and not easy to be debonded.