Description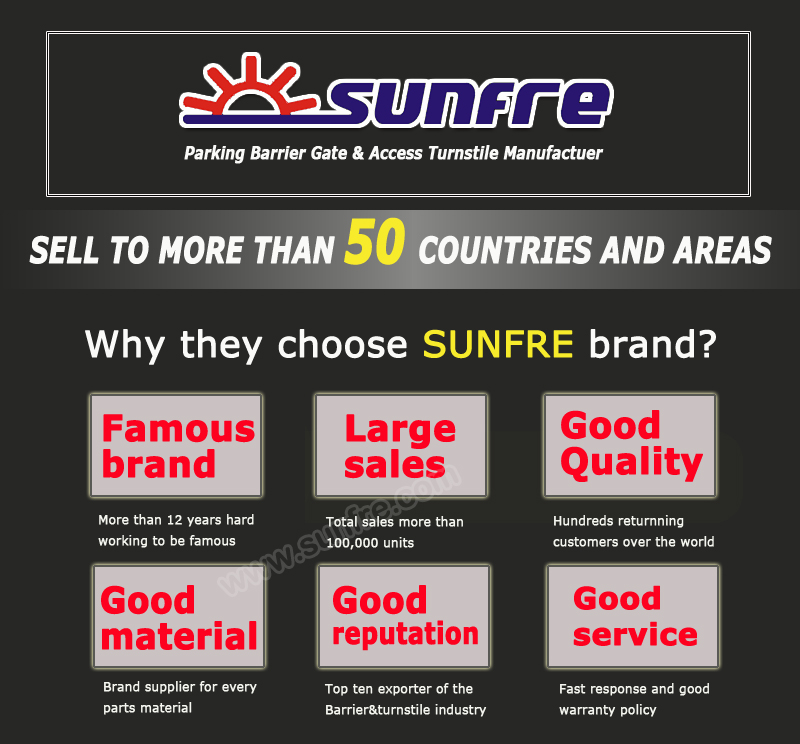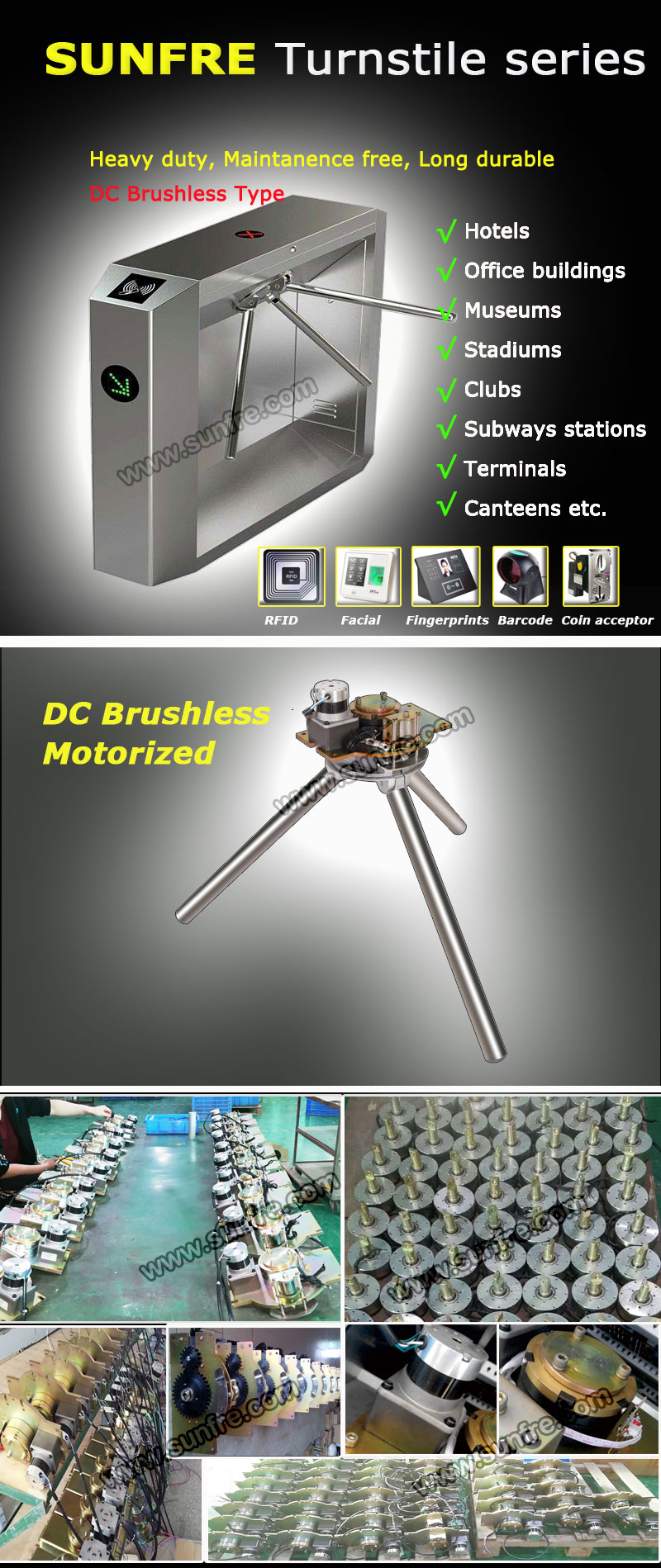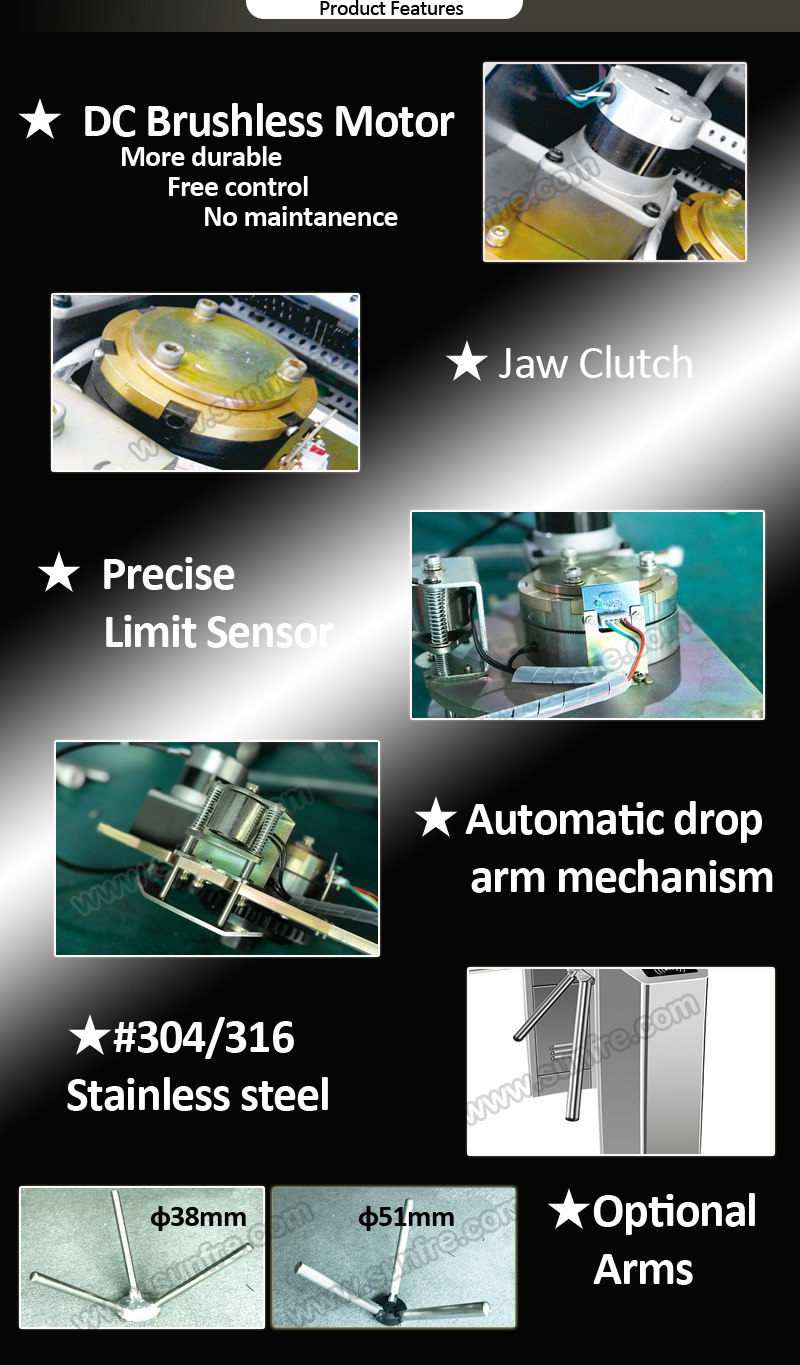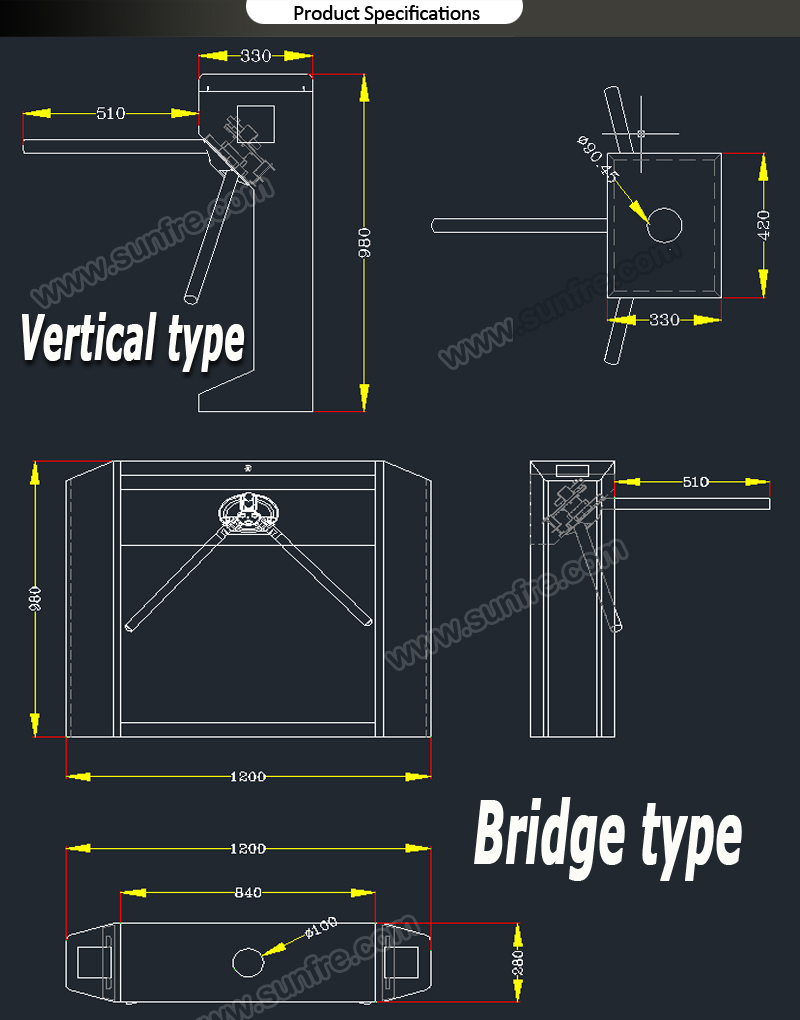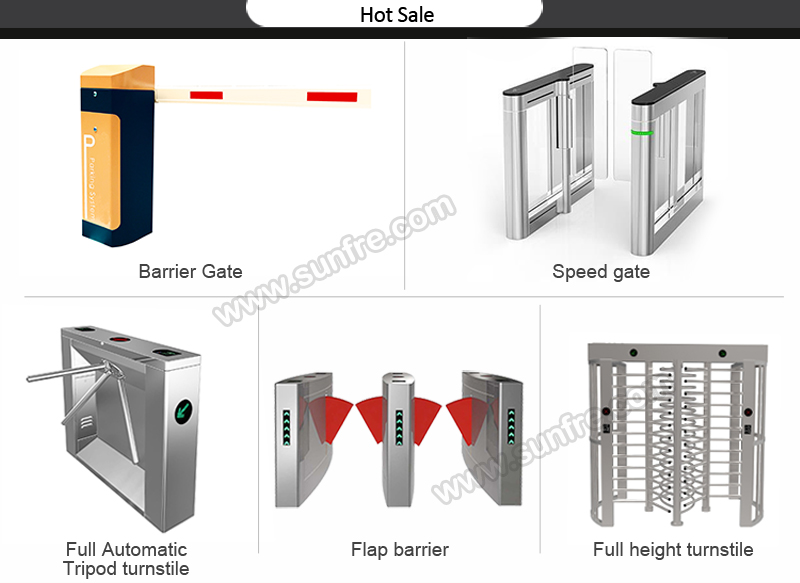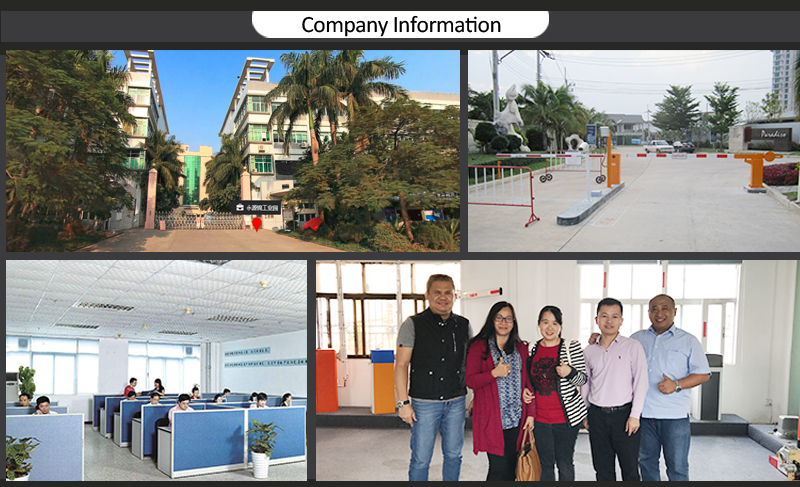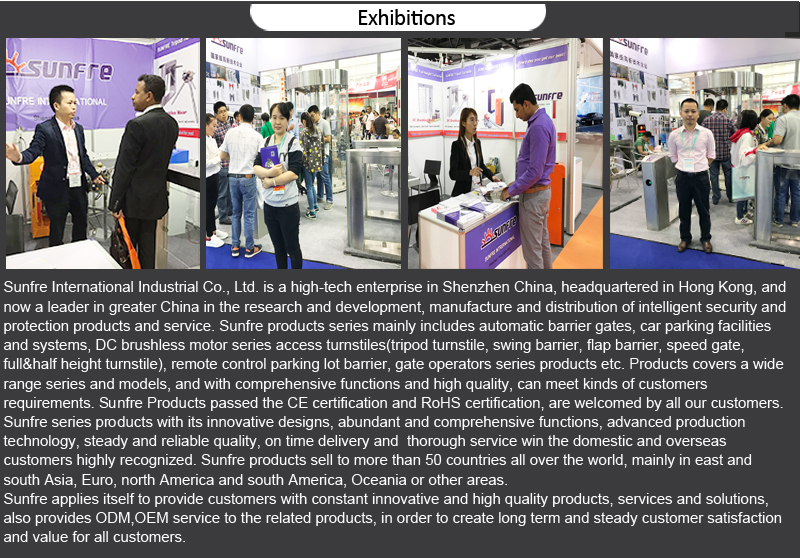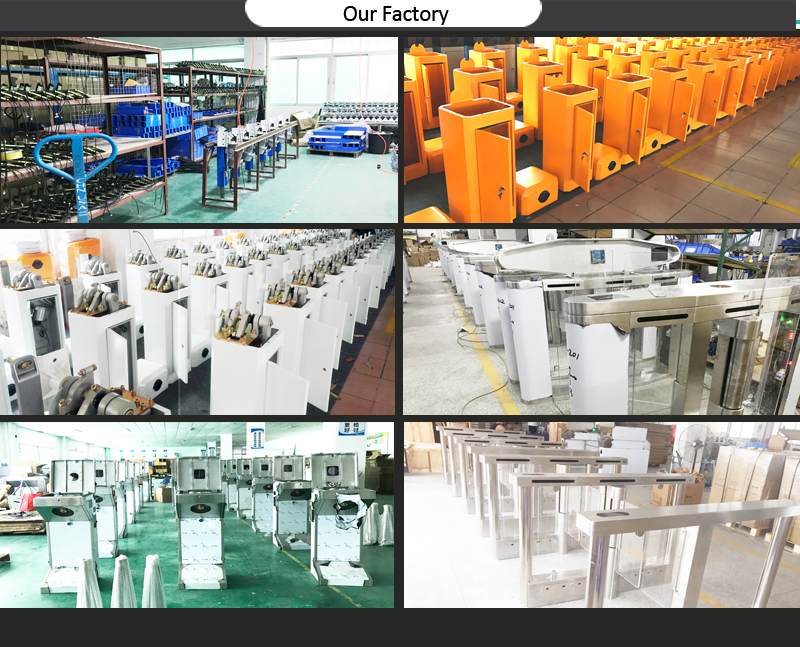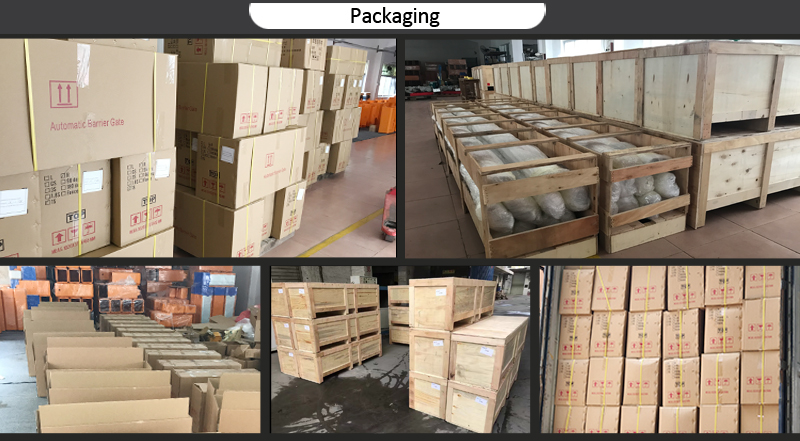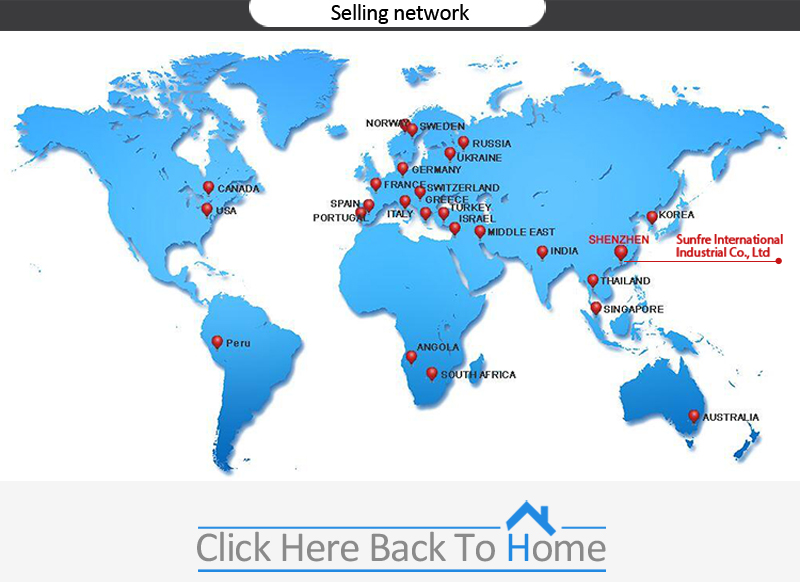 1. Description
Tripod turnstile series are intelligent passage management equipment researched, developed and produced by our company.The equipment is integrated with delicate mechanical transmission, microprocessor control, and various read/write techniques. It can be used for intelligent control and management of the passage after equipped with different read/write devices.
The outline of the product is formed after bending the stainless steel plate. The shape is featured as pleasing appearance, good looking, stainless and durable. The system is provided with a standard electric interface and is easily integrated into the equipment with read/write facilities such as magnetic card, bar code card, ID card and IC card. As a result, an orderly and civilized passage is provided for the personnel in and out, and illegal personnel can be barred. At the same time, a special fire control interface is equipped in the system to meet the requirement of fire control passage, so that a rapid down rod control may be realized in emergency for diverting passengers.
 2.Main Functions and Features of the System
1)   The entire system runs smoothly, with a small noise and free of mechanical impact.
The system adopts the exclusive technique of Jaw clutch. As a result, the turnstile is more accurate and reliable for zero point locking and unlocking.
2)    DC Brushless Motor, Maintenance Free
3)   It has failure self-detect and alarm indication function, facilitating maintenance and application for the users.
4)   It is provided with multiple operation modes for selection. It can either read card in double way for flow limit, or reading card in a way while barring in the other, or read card in a way while free passage in the other. Moreover, the operation mode of turnstile may be set up with the built-in small keyboard.
5)   It has automatic function of opening or closing when power off.
6)   The equipment is provided with a unified, standard electric interface and is available to be integrated with various read/write facilities to facilitate the system integration. It is able to realize far end control and management with the help of administrative computer.
7)  It has a function of reading card with or without memory, and it may be set up with the built-in small keyboard in accordance with the requirements of the users.
8)Counting the passing people number automatically, and with LED display
9)Direction indicator function, showing passing or prohibiting for the people
10)Prohibiting opposite direction passing, one side reading the card, the other side will lock when you passing forcedly; the locking time can be set, and unlocked by the card.
11) Prohibiting illegal passing, the turnstile without the card, the locking time can be set, and unlocked by the card.
12) Anti-hit against function, when the turnstile touches the passing people, it will stop and after several seconds, it will turn again.
13) Self resetting function, the system will cancel the people passing right when reading the card but not passing, the time can be set.
14) RS485 Communication function
3. Main Technical Specifications
1)      Power voltage: AC220V±10V, 50Hz
2)      Operation environment temperature: -15°C ~60°C
3)      Relative humidity: less than 95%, not condensed.
4)      Max. Passage width: ≤600mm
5)      Passing speed: ≤40 person/m (IC card)
6)      Motor: 30W/24V
7) Communication Distance: 1200M
8) Input Connection: +12V Level Signal or Pulse Wide>100ms DC12V pulse, Current>10Ma
9) Communication Connection: RS485 Communication
10) Material: SS304
Our Service:
1. Provide free technical training, guidance and information of our products and accessories.
2. Our technical staff could instruct our customers on the installation of barrier gates, tripod turnstiles, flap barriers, swing barriers, full height turnstiles, parking barrier lock and etc, and deal with technical and quality issues.
3. We guarantee more than 10 years' service life of our products with 1 years' warranty and life maintenance.
4. Once receive the customer requirements and complaints, we will response within 24 hours.
5. Free maintenance and replacement will be provided if defects result from quality failure of our product.
6. Our company will provide technical services by phone, fax, e-mail, skype etc., please refer to the contact details.
7. Our company will implement the contract strictly; deliver the products to location specified by our customers for free in accordance with the mode of transportation.
8. Our company will provide perfect after-sale services and technical support.
FAQ
Lead Time: less than 15 days if not custom products
Warranty time: 12 months to 24 months accordingly
SUNFRE INTERNATIONAL INDUSTRIAL CO., LTD. is specialized in manufacturing and exporting kinds of Barrier Gates, Vehicle Loop Detectors, Flap Barriers, Swing Barriers, Speed Swing Gates, Tripod Turnstiles, Half Height & Full Height Turnstiles, Parking Space Locks, and Sliding Gate Motor, ect. Our customers are covered all over the world. It will be a great pleasure if we can establish a long-term business relationship and cooperate with you in near future…
Welcome to inquire at your convenience~